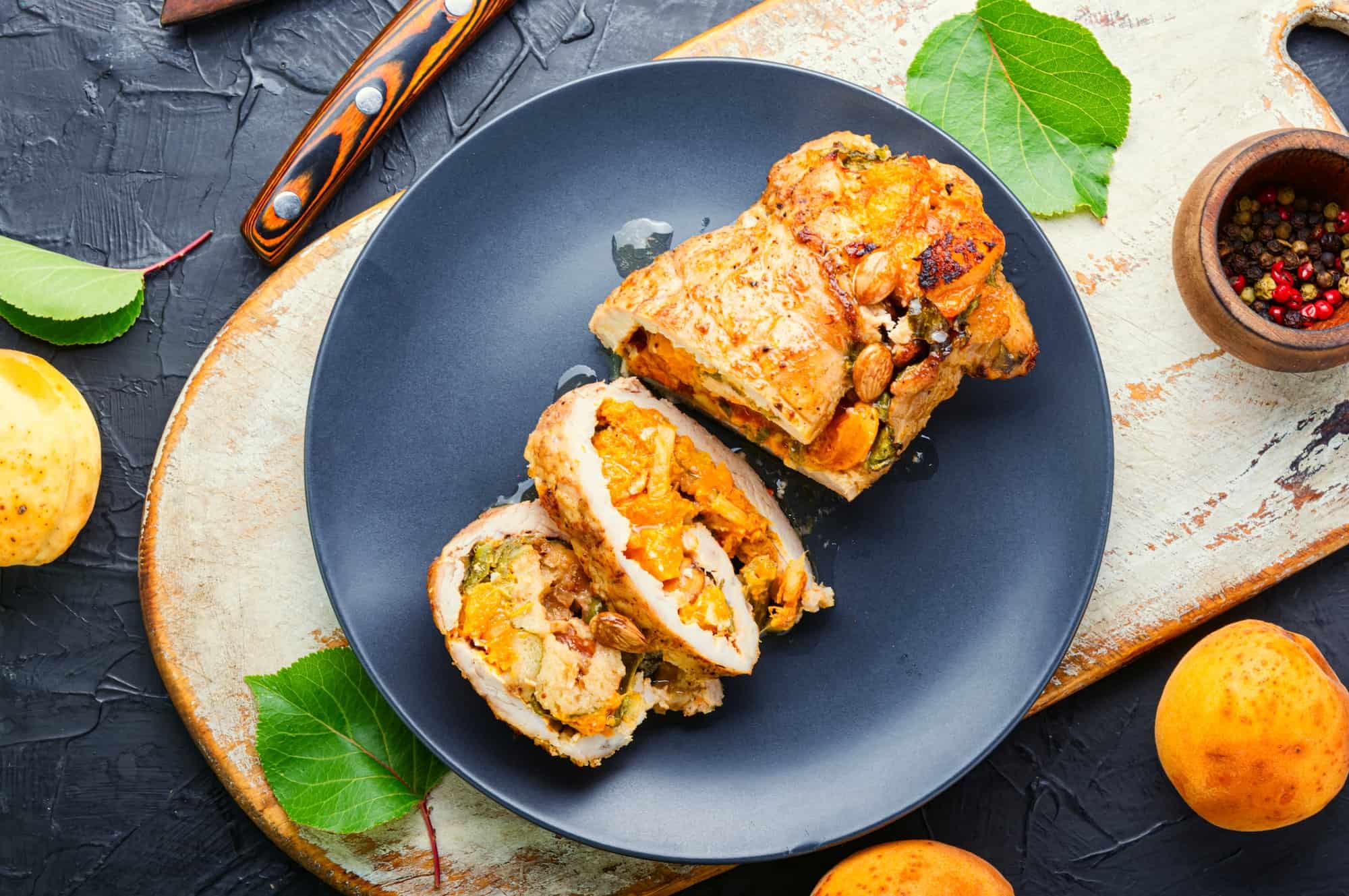 19 Dec

Apricot-Stuffed Pork Tenderloin for 2
Quick-cooking pork tenderloin is the perfect cut of meat for a weeknight dinner—it only tastes like you've spent hours cooking! We stuff the tender pork with a dried apricot filling, then roast it and serve it alongside roasted Brussels sprouts and sweet potatoes. A rich pan gravy ties it all together for the perfect sweet and savory bite.
Ingredients
1 yellow onion
1 oz dried apricots
1 sweet potato
½ lb Brussels sprouts
¼ oz fresh thyme
garlic
10 oz pkg pork tenderloin
1 pkt broth concentrate
olive oil
apple cider vinegar (or white wine vinegar)
sugar
kosher salt & ground pepper
butter
all-purpose flour
Instructions
1. Prep ingredients
Preheat oven to 450°F with racks in the upper third and center. Finely chop ¼ cup onions. Coarsely chop dried apricots. Scrub sweet potato, then halve lengthwise and cut into ½-inch thick half moons. Trim ends from Brussels sprouts (remove outer leaves, if necessary); cut in half. Pick and finely chop 1 teaspoon thyme leaves. Finely chop 1 teaspoon garlic.
2. Season apricot stuffing
Heat 1 tablespoon oil in a medium ovenproof skillet over medium-high. Stir in chopped onions and half of the thyme; cook until onions are softened, 2–3 minutes. Add apricots, 1 teaspoon each of vinegar and sugar, and 2 tablespoons water. Cook until liquid evaporates, 30 seconds. Transfer to a bowl. Season with salt and pepper. Wipe out skillet; reserve for step 5.
3. Roast veggies
Transfer sweet potatoes and Brussels sprouts to a rimmed baking sheet. Toss with 1 tablespoon oil and season with salt and pepper. Roast on center oven rack until veggies are tender and browned in spots, about 20 minutes (watch closely as ovens vary). Carefully stir 1 tablespoon butter into roasted veggies directly on sheet. Season to taste with salt and pepper.
4. Season pork
Use a sharp knife to cut a 1-inch wide pocket through the center of each piece of pork; use the handle of a spoon to widen pocket, if necessary. Divide the apricot stuffingbetween the pockets, filling each pocket evenly. Season pork all over with salt and pepper.
5. Brown & roast pork
Heat 1 tablespoon oil in reserved skillet over medium. Add pork and sear until golden brown on one side, 2–3 minutes. Flip pork, then transfer to upper oven rack. Roast until pork is firm to the touch and reaches 145ºF internally, 8–10 minutes. Transfer to a cutting board and let pork rest for 5 minutes. Carefully return skillet to stovetop; discard any dark brown bits.
6. Make gravy & serve
Carefully, heat 1 teaspoon oil in same skillet over medium. Add chopped garlic, 1 teaspoon flour, and remaining thyme; cook, stirring, until fragrant, 30 seconds. Whisk in broth concentrate and ⅓ cup water. Bring to a simmer; remove from heat and stir in 1 tablespoon butter. Thinly slice pork, then spoon gravy over top and serve with veggies alongside. Enjoy!