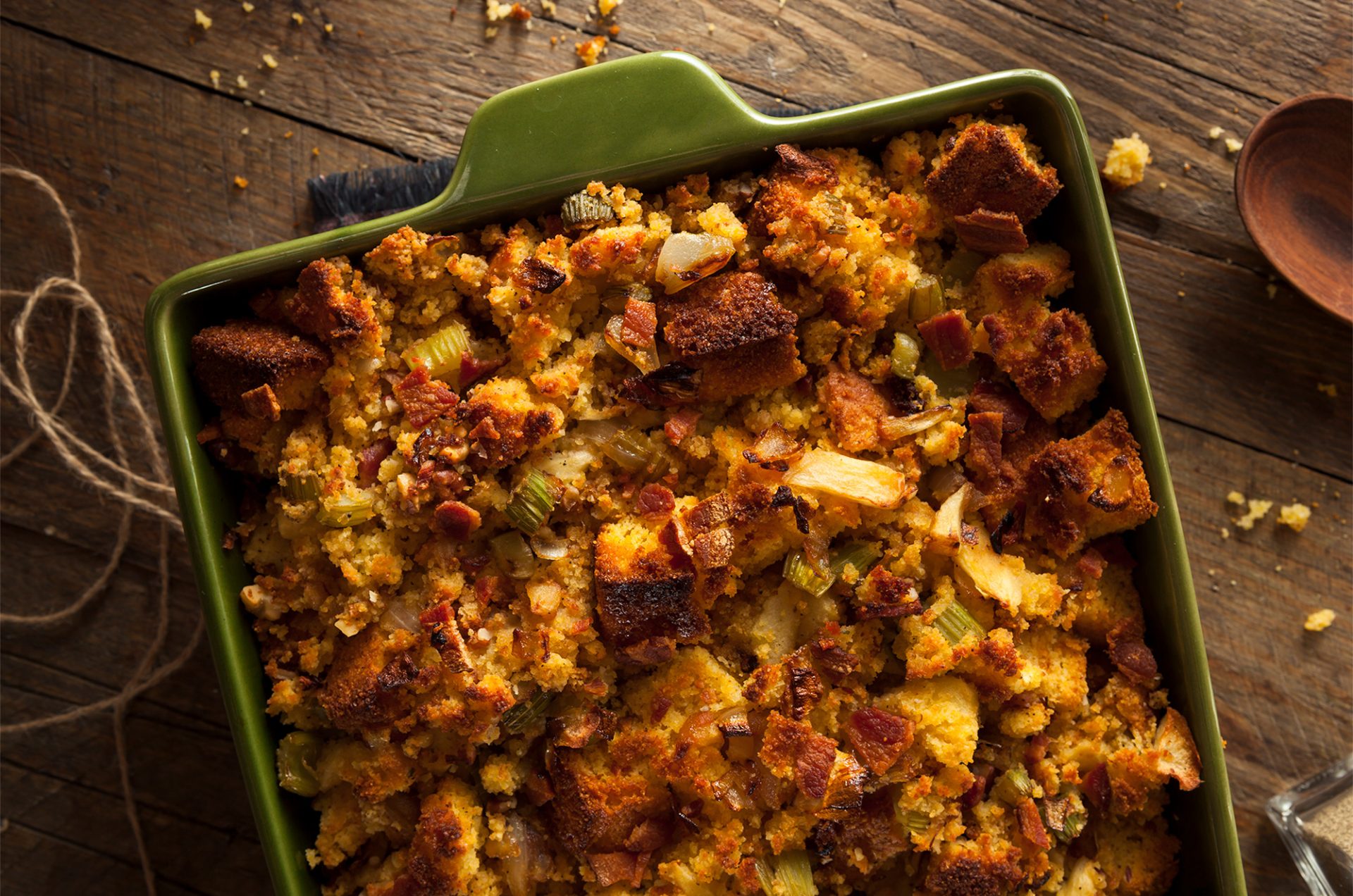 20 Nov

Crockpot Cornbread Dressing

My grandmother's dressing is the cornerstone of all our holiday meals. No one else could make it until a couple of years ago. I was going to be spending Thanksgiving in Little Rock with my husband, David. I peppered him with questions about how was dressing made in Arkansas. Of course I got a vague answer about something that was cooked in a bread pan. A Thanksgiving without dressing from a crock pot?!?! What would I do?… Well I offered to cook the family dressing. It was just a small gesture to them, but little did they know what a huge honor it was for me.

So I called my grandmother. I know she was just excited to tell me how to make it as I was to learn how. She told me to get a hen. "A what?!" I asked "I thought chicken was chicken. I didnt even know you could buy a hen!" She said, "Yes Darlin, hens have more flavor."

After gathering all the ingredients I went to my mother's house. There in her kitchen 3 generations of Edwards women stood putting dressing together. And after a couple of hours the cornbread dressing torch was passed.

Yes the cornbread dressing was a hit. And yes I lost sleep that night watching over my slow cooking crockpot, bubbling with tasty goodness. But most of all I was thankful for family, tradition, and of course being Southern.

*Update: I have passed the dressing torch to the next generation. My niece Ronni Ann is now the marker of the cornbread dressing. Family is everything!
Ingredients
1 large crockpot
1 hen
6-8 biscuits (You can make your own but I just buy Mary B's)
1 skillet of cornbread
2 cups chopped onion
1 stick of butter
6 stalks of celery, chopped
Fresh Sage, Chopped
Fresh Thyme, Pulled from stalk
Poultry Seasonings
Black Pepper
Salt
3 eggs
Prepare:
Cornbread and biscuits can be made a day or so ahead of time. Because it is good if they are a little hard. But im usually a last minute kind of person so mine always get cooked when im making my chicken stock.
Chop Onion, Celery, and Herbs.
Broth:
Get a hen. You can use a chicken if you cant find a hen. But as my grandmother says the hens have more flavor. Get a large stew pot and fill it with water until the hen is covered. Throw in a little salt, turn the stove on high and cover. Bring it to a boil and then turn it down to a simmer. I cook mine until the meat is falling off the bone.
The Crockpot:
Get a large crockpot, take a stick of butter and coat the bottom and the walls. The butter will give you crusty edges that everyone wants.You will be combining the ingredients right in the crockpot so keep it out.
Directions:
To start your dressing it is best to prepare all of your ingredients before you start to assemble. Making dressing in a crockpot is a layering process. After your broth has cooled a little, take out the hen and start taking meat off in small pieces. Take your cooked biscuits and cornbread and tear them into small pieces. But not too small cause you dont want mushy dressing.
Start by putting an inch of biscuts and cornbread crumbles in the bottom. Then sprinkle on a layer of thyme, sage, poultry seasoning, salt and pepper. Then add a bit of chicken. Next put a layer of onions and celery. Cut up some butter and put a few chunks on top.
Next toss the mixture slightly like you would a salad.
When the layers are somewhat mixed take some of the broth from the hen and pour it over the mixture. Feel free to use more if it looks like it needs it or if you like a more moist dressing.
Keep making layers and mixing them until you have filled up your crockpot.
To finish the dressing off, take the 3 eggs and beat them. Pour over the top. This may seem weird but the egg will soak in and you wont really see it when everything is cooked.
To Cook:
Most recipes say to cook on high for 2 hours or on low for 3-4. But I like to cook mine for a longer. I think I usually do like 2 hours on high and then turn it down an cook another hour or 2 on low. You will see it bubbling and the smell will bring your family to the table!