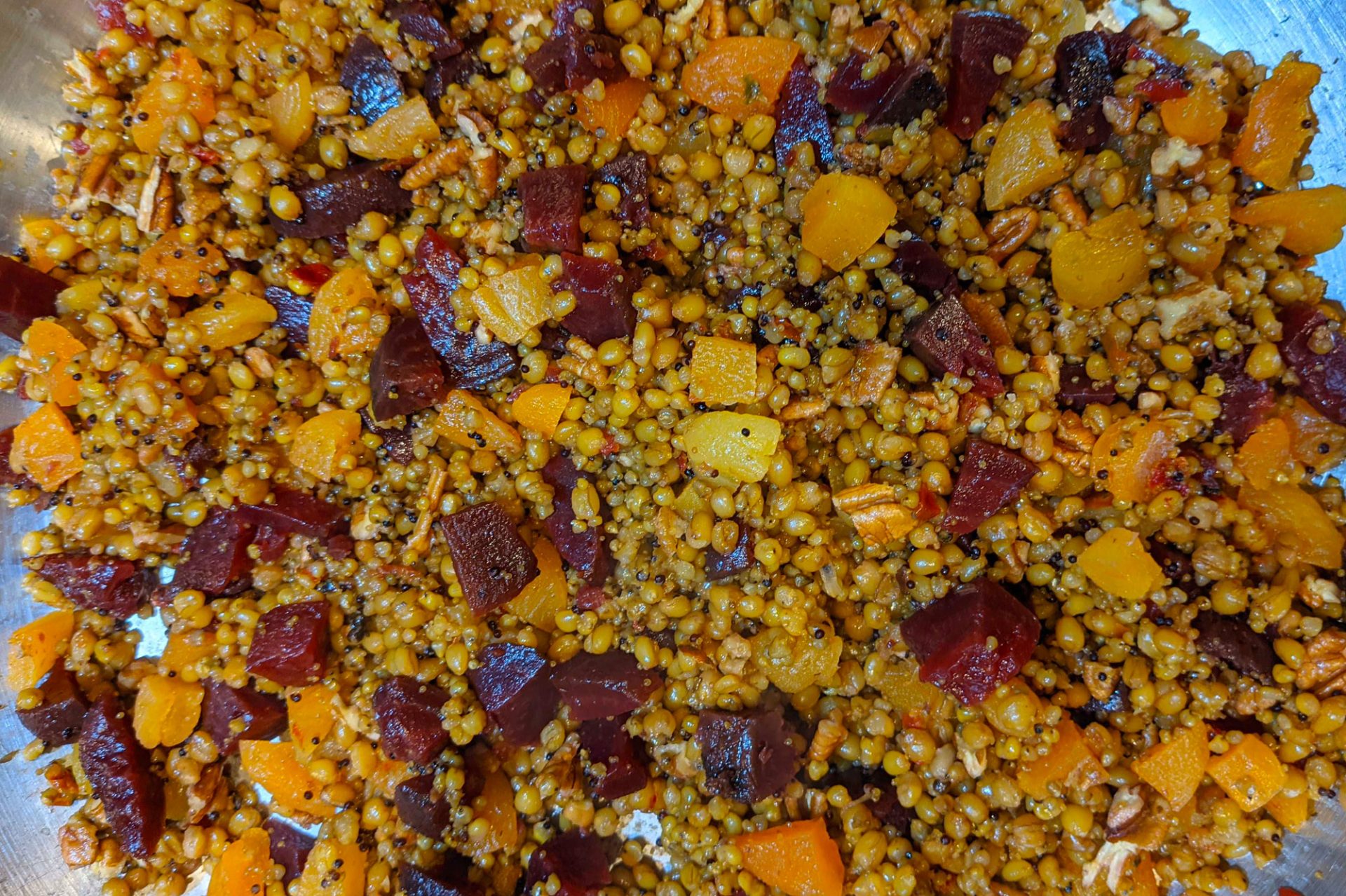 16 Jan

Ancient grains with beets, apricots and walnuts

Posted at 12:33h

in

Sides
Ingredients
9 ounces spelt grain
2 tablespoons olive oil
2 onions (chopped)
2 ounces dried apricot (chopped)
3 medium beets
⅓ cup raisins
1 orange (grated zest and juice)
⅓ cup walnuts
⅕ cup pine nuts
2 cups vegetable stock (more if needed)
salt
freshly ground peppers
1 tablespoon chopped cilantro
1 tablespoon chopped parsley
Preparation steps
Preheat your oven to 400F. Rub each beet with a little bit of olive oil, then wrap it in foil. Place the wrapped beets onto a baking sheet. Bake for 45-60 minutes, or until the beets are tender enough to be pierced with a fork or knife. Allow the beets to cool for 15 minutes. Then, run them under cold water and slip off their skins (this should be easy to do). Chop the beets into 1-inch pieces and set them aside.
Boil the spelt grains in a pan, cover with water and simmer gently for 15 minutes. Drain well.
Heat the oven to 350°F
Heat the oil in a pan and gently cook the onions until translucent.
Add the spelt grains, apricots, raisins, orange juice, nuts, and stock and bring to a boil. Season with salt and pepper and put into the baking dish.
Cover and cook in the oven for 30 minutes. Stir and add more stock needed. Cover and cook for a further 20-30 minutes, until tender.
Season to taste and serve sprinkled with the herbs.