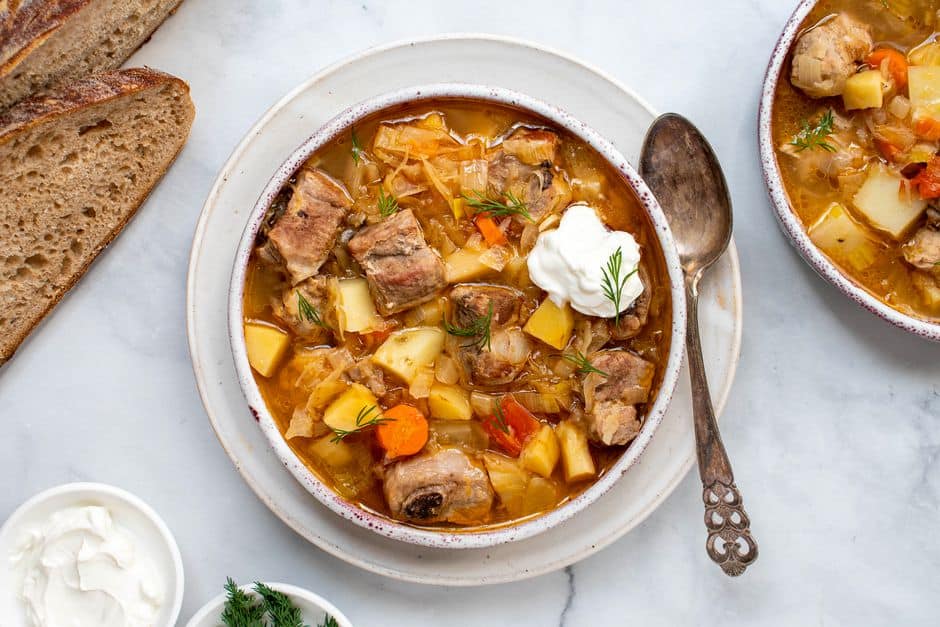 08 Mar

Russian Pot Roast
A hearty and very flavorful dish.
Russian Roast It is no secret that Russians like to eat. The national dishes are mostly hearty, with lots of meat and vegetables. One of the favorite dishes in Russia always were roast cooked in pots. And today his offer to cook.
Ingredients
pork – 500 grams
onions – 3 heads
potatoes – 1.5 kg
hard cheese – 300 grams
milk – 50 grams
mayonnaise – 150 grams
sour cream – 150 grams
butter – 100 grams
salt
pepper
Bay leaf
Greens.
Instructions
Rinse meat in cold water, clean from films and cut into cubes of medium size
Onions finely chop
Mix with meat and 50 grams of softened butter, sprinkle with salt and pepper
Leave on for 15 minutes to marinate
Potatoes peel and cut into cubes. 2 potatoes cut into thin slices
In a crock pot transfer the meat with onions and potatoes
Stir and top cover with potato slices
Add the Bay leaf
Cheese RUB on a grater
In each pot place the components on a piece of butter, sprinkle cheese liberally and evenly pour the mixture of sour cream, milk and mayonnaise
Pots put in a preheated 220 degree oven
Cook for 35 to 45 minutes
Served in hot pots, on top sprinkled with finely chopped greens
Bon appetit!