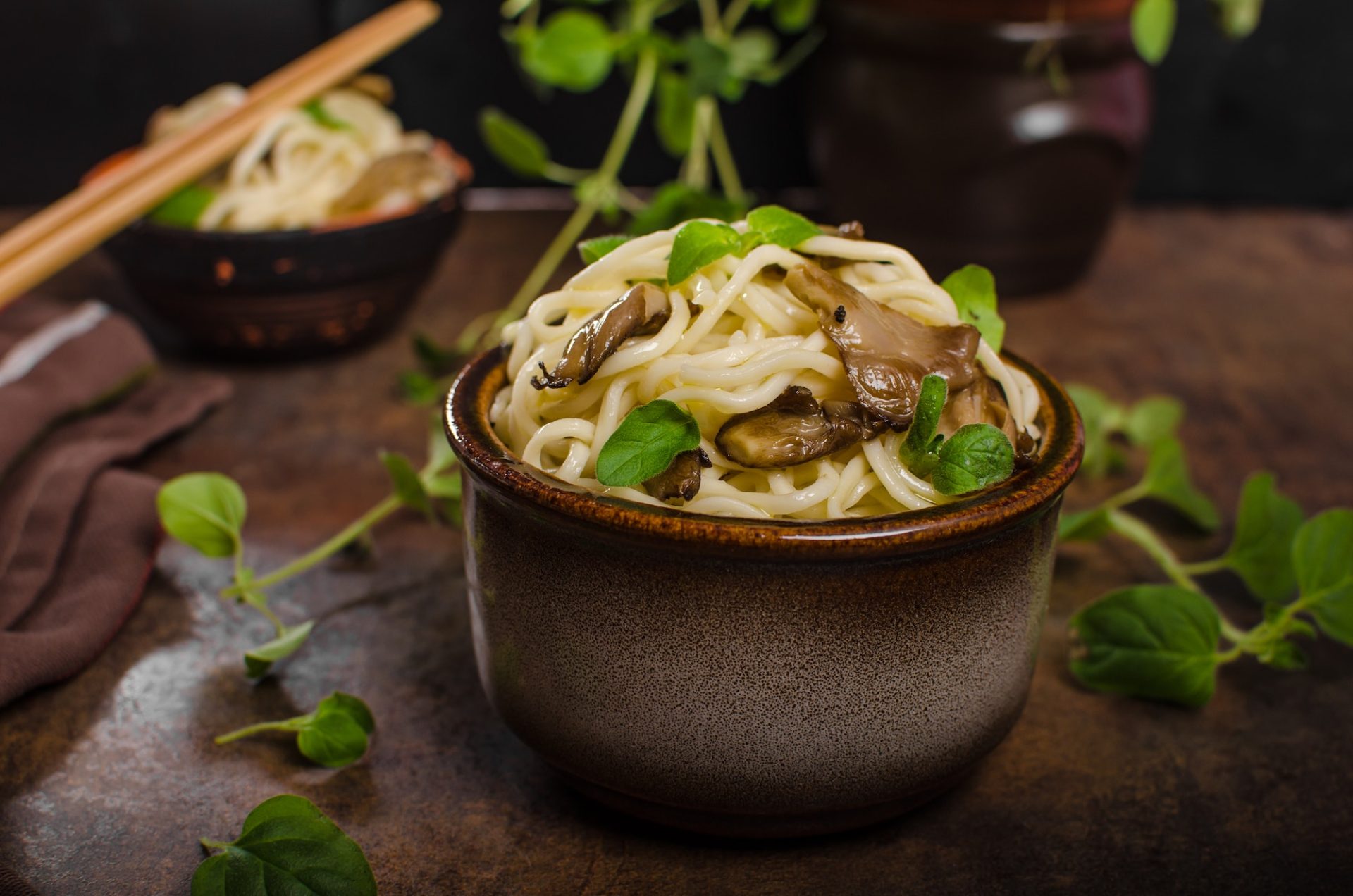 21 Sep

Creamy Coconut Noodles
Creamy Coconut Noodles with Mushrooms, Snow Peas & Toasted Peanuts
Getting a delicious vegetarian meal on the table doesn't have to take hours! We've found a way to create take-out-style noodles at home in a flash. Our trick? Fresh, flavorful ingredients! Here we toss chewy rice noodles in a creamy tamari-coconut sauce with sautéed mushrooms, crisp snow peas, and silky baby spinach. A sprinkle of chopped salted peanuts adds a delightful crunch, and fresh cilantro takes it over the top.
Ingredients
8 oz mushrooms
8 oz snow peas
3 oz coconut milk powder
2 oz salted peanuts
10 oz pad Thai noodles
6 oz baby spinach
2 lime
1 oz tamari
½ oz fresh cilantro
kosher salt & ground pepper
sugar
neutral oil
garlic
Instructions
1. Prep veggies
Bring a large pot of salted water to a boil. Finely chop 4 teaspoons garlic. Thinly slice mushrooms. Thinly slice snow peas lengthwise. In a liquid measuring cup, whisk to combine coconut milk powder, 1.5 cups hot tap water, and ½ teaspoon sugar. Coarsely chop peanuts and set aside until step 6.
2. Cook noodles
Add noodles to boiling water and cook until al dente, about 8 minutes. Place spinach in colander and drain noodles directly over greens so it wilts. Rinse under cold water, drain well again. Meanwhile, cut lime into wedges.
3. Cook veggies
Add garlic to skillet with veggies and cook, stirring, until fragrant, about 30 seconds.
4. Cook aromatics
Add garlic to skillet with veggies and cook, stirring, until fragrant, about 30 seconds.
5. Add sauce & noodles
Add coconut mixture and tamari to skillet with veggies. Bring to a simmer; add noodles and spinach, tossing in sauce. Cook until sauce is thickened and coats noodles, 30–60 seconds more. Remove from heat.
6. Garnish & serve
Coarsely chop cilantro leaves and stems. Squeeze 1–2 lime wedges into noodles (about 2 teaspoons total) and toss to combine. Season to taste with salt and pepper. Spoon noodles and sauce into bowls and garnish with peanuts and cilantro. Serve with remaining lime wedges on the side. Enjoy!