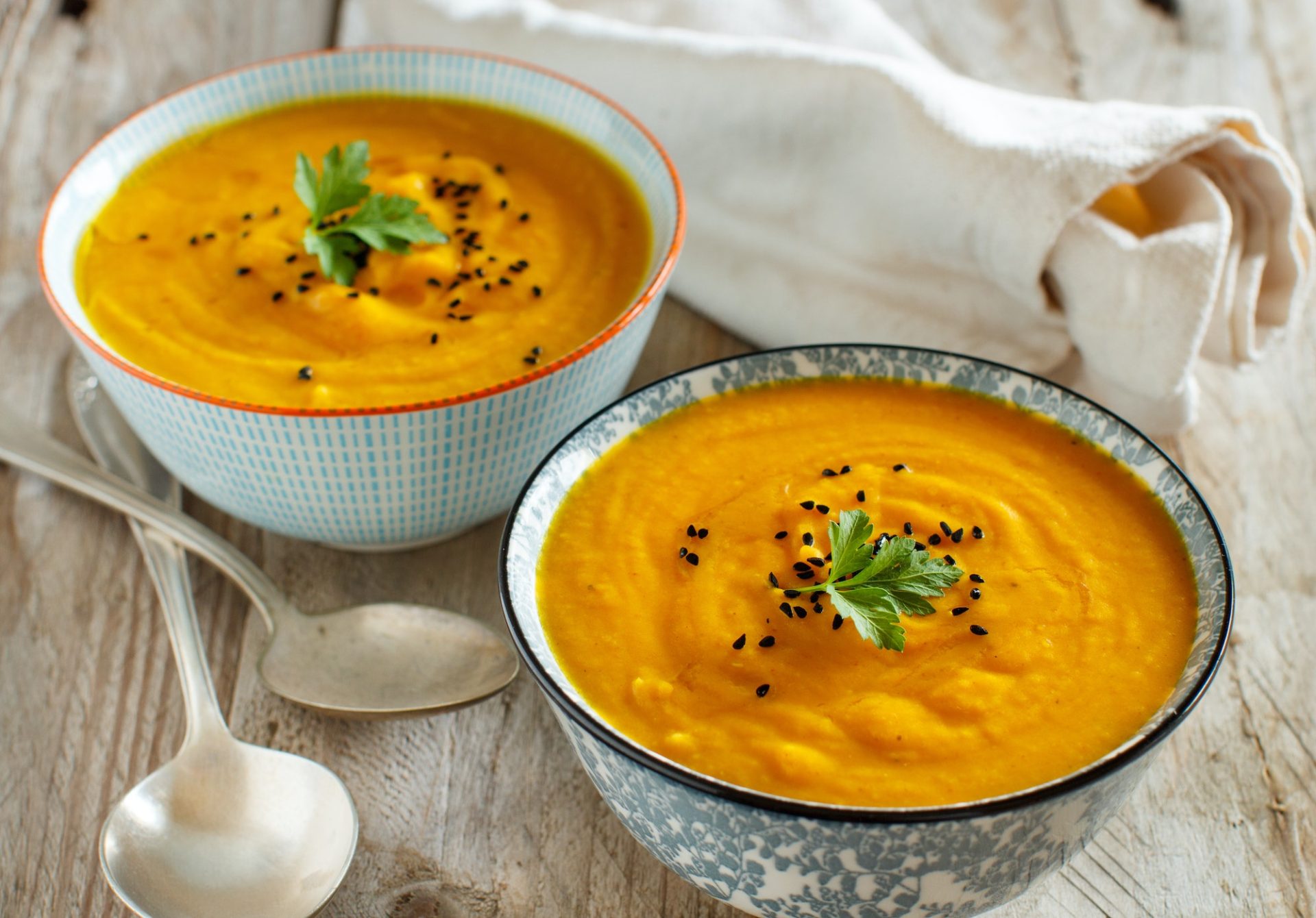 20 Dec

Miso Pumpkin Soup
Immunity Boosting Miso Pumpkin Soup with Fried Ginger & Crispy Kale
This pumpkin soup is savory and warming—and it's chock-full of good-for-you ingredients! Pumpkin purée full of fiber and vitamins C and E. We pair it with nutty miso paste, onions, sweet potatoes, and ginger for a soup with anti-inflammatory and antioxidant benefits (plus these nutritious ingredients add a ton of flavor!). Crispy kale, fried ginger, and sesame seed on top gives this hearty soup a delightful crunch.
Ingredients
1 medium yellow onion
1 sweet potato
garlic
1 oz fresh ginger
2 pkts miso paste
¼ oz ground cumin
15 oz can pumpkin purée
1 bunch curly kale
¼ oz fresh cilantro
¼ oz mixed sesame seeds
olive oil
kosher salt & ground pepper
apple cider vinegar
What You Will Use
microwave
medium pot
rimmed baking sheet
immersion blender
Instructions
1. Prep ingredients
Halve onion and thinly slice. Peel sweet potato and cut into ½-inch pieces. Finely chop 2 teaspoons garlic. Peel ginger and finely chop 1 teaspoon. Thinly slice remaining ginger into matchsticks. In a liquid measuring cup, whisk to combine all of the miso paste with 3½ cups hot tap water. Set miso mixture aside until step 4.
2. Fry ginger
In a small microwave-safe bowl, combine ginger matchsticks with just enough oil to cover them, about 4 tablespoons. Microwave until ginger is crisp and just starting to brown, 2–4 minutes (watch closely). Transfer ginger to paper towel to drain excess oil. Reserve remaining oil.
3. Saute aromatics
In a medium pot, heat 1 tablespoon reserved ginger oil over medium-high. Add onion and a pinch each of salt and pepper. Cook, stirring occasionally, until tender and translucent, 5–7 minutes. Add ginger, garlic, and ½ teaspoon cumin (or more to taste). Cook, stirring, until fragrant, about 1 minute.
4. Cook potatoes
To pot with onions, stir in miso mixture and bring to a simmer. Stir in pumpkin puréeand return to a simmer. Add sweet potatoes, cover, reduce heat to low, and cook, stirring occasionally, until potatoes are tender, about 15 minutes.
5. Broil kale
Meanwhile, preheat broiler with a rack in the upper third. Remove and discard stems from kale leaves. Tear leaves into 1–inch pieces. Transfer kale to a rimmed baking sheet; use your hands to massage with 1 tablespoon oil. Season with salt and pepper. Spread kale into an even layer and broil until tender and crisp in spots, about 5 minutes (watch closely).
6. Blend & serve
Purée soup with an immersion blender until smooth. Keep pot warm over low heat. Stir in ½ teaspoon vinegar and season to taste with salt and pepper. Remove cilantro leaves from stems and set aside. Spoon soup into bowls and garnish with sesame seeds, fried ginger, and cilantro leaves. Serve with some kale on top and the remaining on the side. Enjoy!