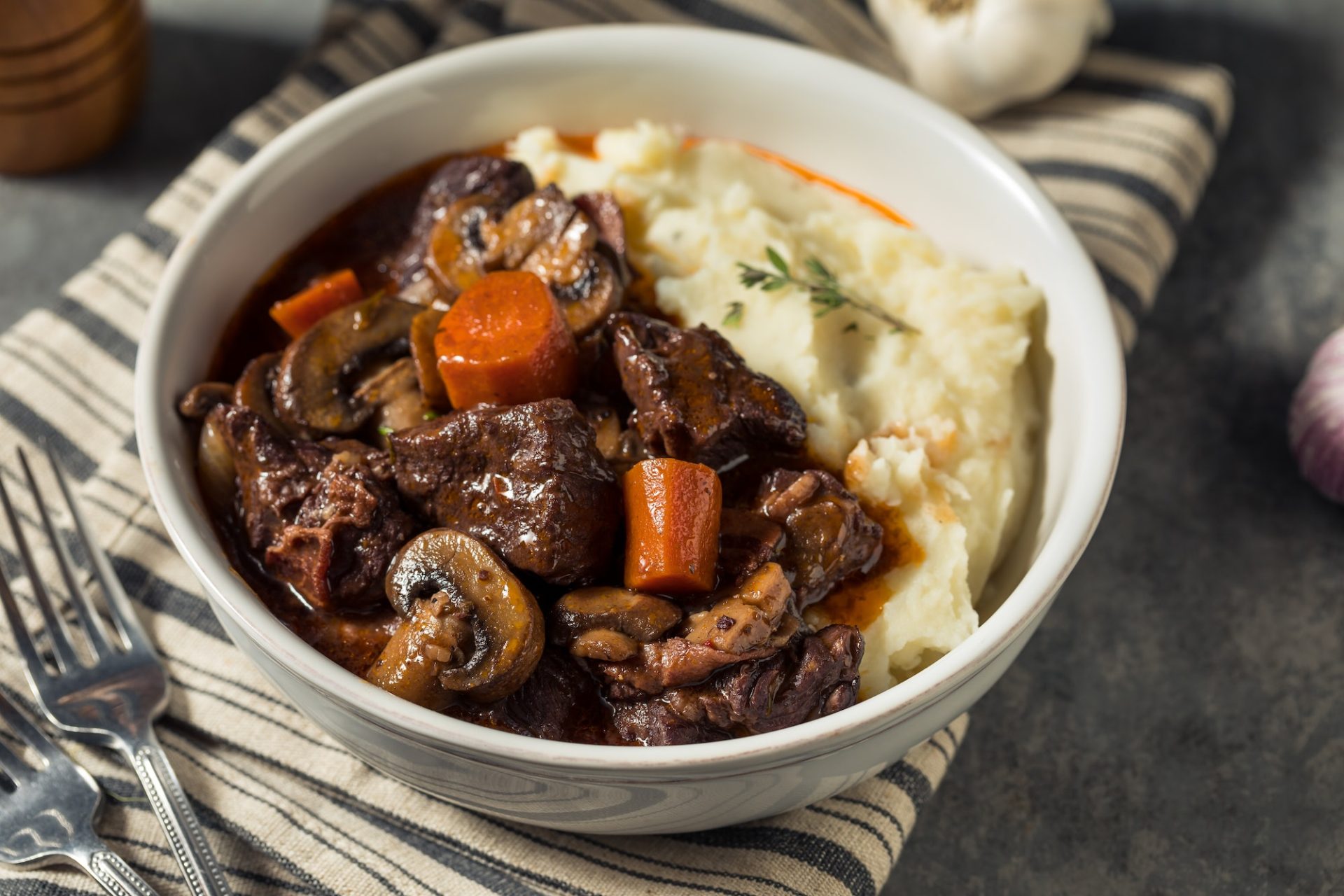 19 Dec

Mushroom Bourguignon
Mushroom Bourguignon with Mashed Potatoes
We've put a vegetarian spin on a French culinary masterpiece, beef bourguignon, and it's so rich you won't miss the meat! We simmer mushrooms with aromatics, tomato paste, tamari, and fresh rosemary. The vibrant mix of veggies, herbs becomes a hearty, silky stew that's perfect for serving over creamy mashed potatoes. The only thing missing from this bistro-style meal is a robust glass of burgundy wine. Bon appétit!
Ingredients
4 russet potatoes
garlic
½ oz fresh rosemary
1 lb mushrooms
2 medium yellow onions
2 carrots
12 oz tomato paste
1 oz tamari soy sauce
2 oz sherry vinegar
½ oz fresh parsley
Instructions
1. Cook potatoes
Peel potatoes, then cut into 1-inch pieces. Place potatoes in a large saucepan along with 2 large peeled garlic cloves, 2 rosemary sprigs, and enough salted water to cover by 1 inch. Cover and bring to a boil. Uncover and cook until potatoes are easily pierced with a fork, about 15 minutes. Drain, discard rosemary sprig, and return potatoes to saucepan. Cover to keep warm off heat.
2. Sauté mushrooms & carrots
Halve mushrooms (quarter, if large). Finely chop onion. Scrub carrot, then cut crosswise into 1½-inch pieces (halve or quarter lengthwise, if large). In a large Dutch oven or pot, heat 2 tablespoons oil over medium-high. Add mushrooms and cook, stirring occasionally, until browned and any liquid is evaporated, about 12 minutes.
3. Add aromatics & flour
Meanwhile, finely chop 3 teaspoons rosemary leaves and 2 teaspoons garlic. To pot with mushrooms, add onions, carrots, and 1 tablespoon oil. Cook, stirring, until vegetables are softened, about 5 minutes. Stir in chopped garlic and rosemary and 2 tablespoon each of tomato paste and flour; cook until fragrant and tomato paste is slightly darkened, about 1 minute.
4.Finish bourguignon
To pot with vegetables, stir in tamari, 2 teaspoons sherry vinegar, and 2 cups water. Bring to a simmer over medium heat. Reduce heat to medium-low, cover, and cook until vegetables are tender and sauce resembles a thick stew, 15–20 minutes. Season to taste with salt and pepper.
5. Mash potatoes
Return saucepan with potatoes to medium heat. Add 4 tablespoons butter and 2/3 cup milk; use a potato masher or fork to mash until smooth. Season to taste with salt and pepper. (Add more milk as needed to reach desired creaminess.)
6. Finish & serve
Finely chop parsley leaves and stems. Serve mashed potatoes with mushroom bourguignon spooned over top and garnish with parsley. Enjoy!