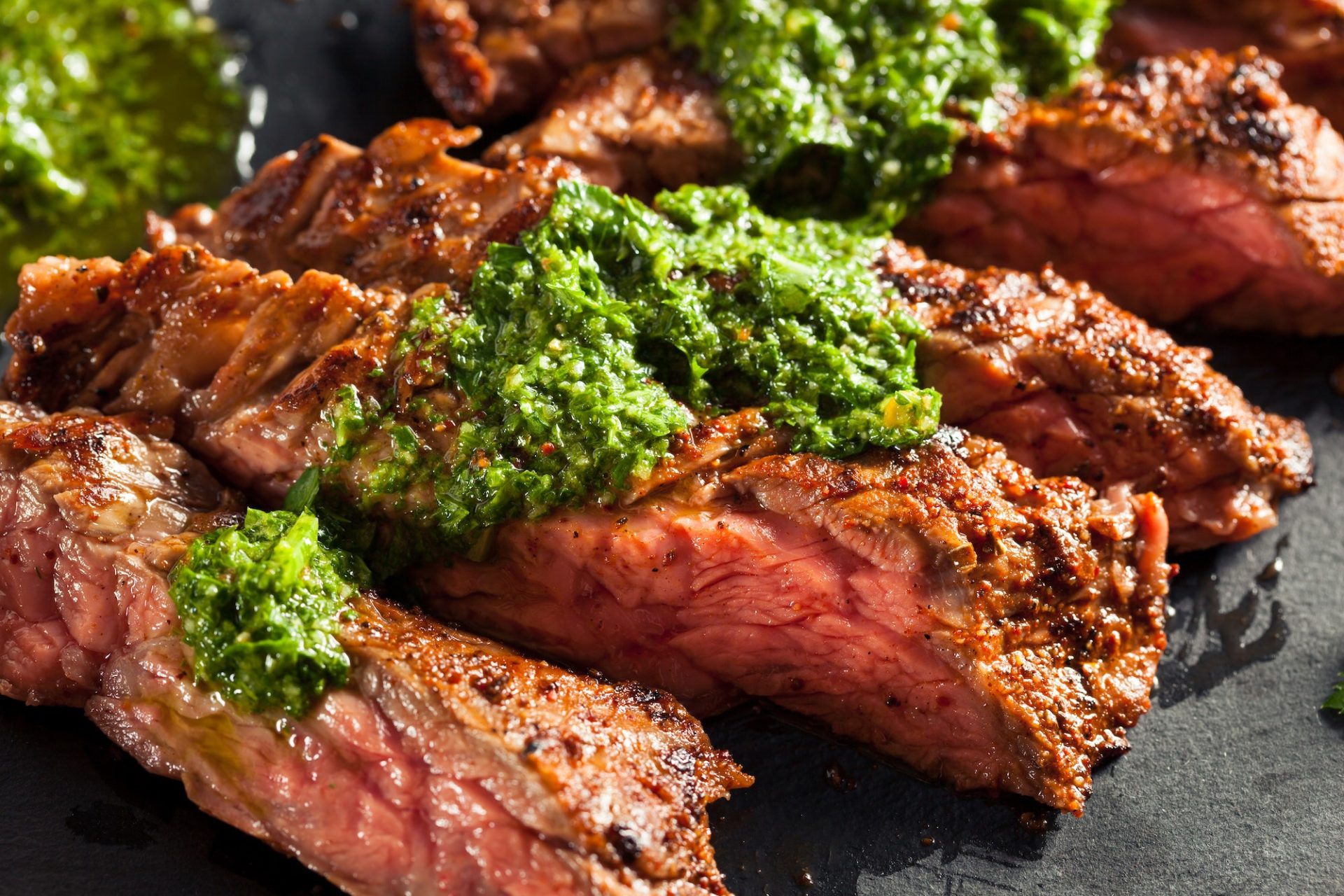 19 Dec

Salsa Verde Steak
Salsa Verde Steak & Herb Roasted Potatoes with Garlicky Kale
Fresh and lively, our herbal salsa verde elevates this steak and potatoes dinner to the next level. We roast potatoes with Herbs de Provence, an aromatic blend from southern France, until crispy and golden brown. The herbs do double duty by flavoring the juicy steaks while we sauté dark greens with garlic until soft and tender.
Ingredients
4 russet potatoes
2 bunches curly kale
garlic
2 oz cornichons
2 oz capers
½ oz herbs de Provence
2 lemons
8 oz chimichurri sauce
2 Tbs Dijon mustard
4  5 oz sirloin steaks
Instructions
1. Prep ingredients
Preheat oven to 450℉ with a rack in the lower third. Scrub potatoes; cut into 1-inch pieces. Strip kale leaves from stems; discard stems. Cut or tear leaves into 1-inch pieces. Finely chop 4 medium garlic cloves. Finely chop half of the cornichons and capers(save rest for own use).
2. Roast potatoes
On a rimmed baking sheet, toss potatoeswith 2 tablespoons oil and half of the herbs de Provence; season with salt and pepper. Roast on lower oven rack until deeply browned and tender, stirring halfway through, 30–35 minutes. Into a small bowl, zest half of the lemon. Stir in chimichurri, Dijon, cornichons, and capers; set aside.
3. Wilt kale
In a large heavy skillet, combine chopped garlic with 2 tablespoons oil. Cook over medium-high heat until fragrant, softened, and just starting to brown on the edges, 2–3 minutes. Stir in half of the kale and cook until beginning to wilt, about 1 minute. Stir in remaining kale and 1 cup water.
4. Cook kale
Cover skillet, lower heat to medium, and cook until kale is dark green and tender, about 5 minutes. Uncover and increase heat to medium-high. Cook, stirring occasionally, until liquid has mostly evaporated (bottom of skillet will be almost dry and greens will begin to sizzle), 1–2 minutes. Off heat, squeeze in 2 teaspoons lemon juice. Season to taste with salt and pepper.
5. Season steaks
Transfer kale to a bowl and cover to keep warm. Rinse and wipe out skillet. Season steaks all over with salt, pepper, and remaining herbs de Provence; pat to adhere.
6. Cook steaks & serve
Heat skillet over medium-high with 2 tablespoons oil until lightly smoking. Add steaks and cook until well browned and medium-rare, 3–4 minutes per side (or longer for desired doneness). Transfer to a cutting board to rest. Thinly slice against the grain, if desired. Serve steaks and salsa verde with potatoes and kale. Enjoy!