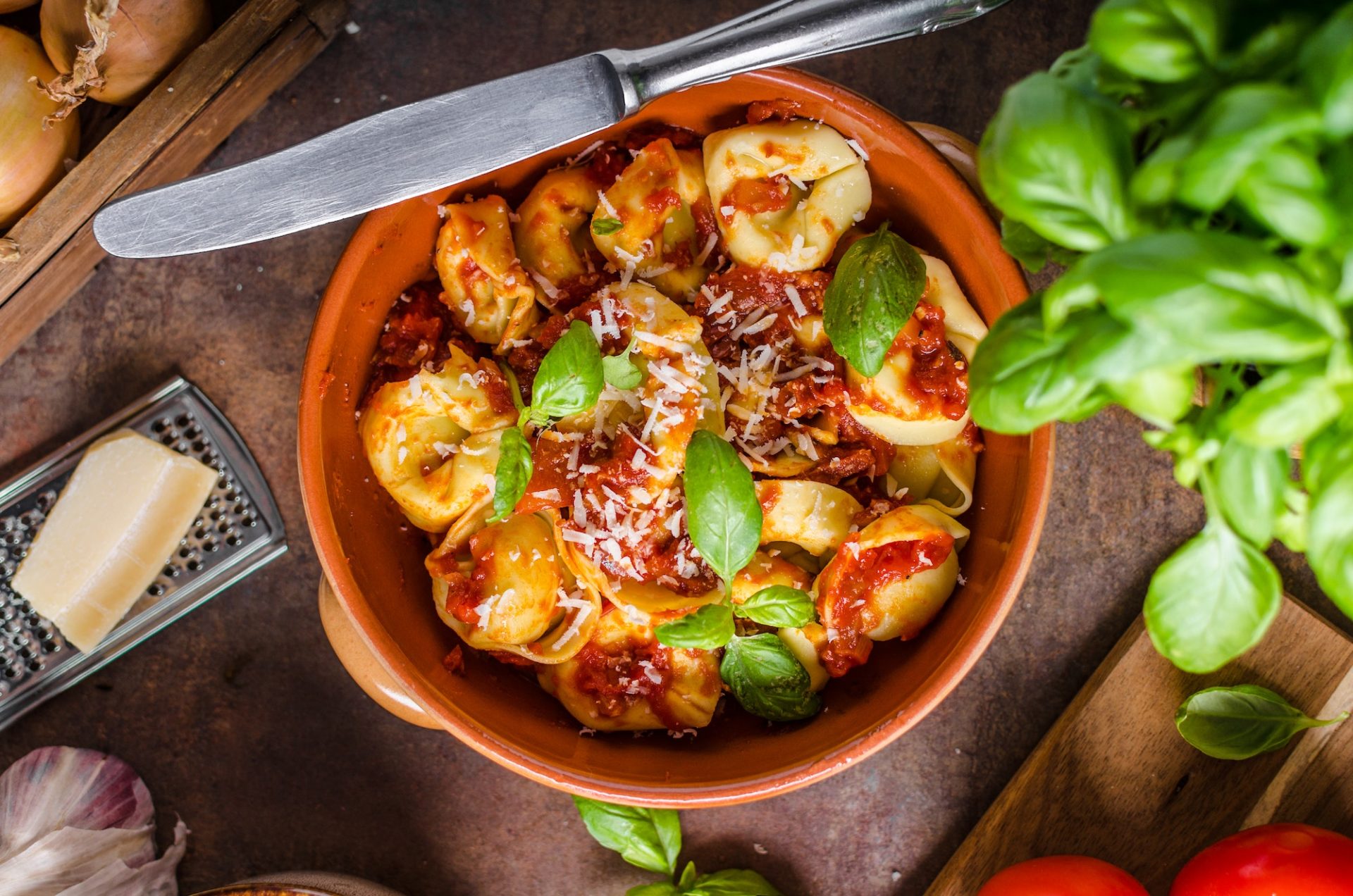 20 Dec

Saucy Tortelloni Florentine
Saucy Tortelloni Florentine with Roasted Broccoli
Did someone say "saucy tortelloni?" Now that we have your attention, prepare to be wowed. Here we combine cheese-stuffed tortelloni with a creamy tomato sauce packed with silky baby spinach. A sprinkle of Parmesan cheese on top before broiling becomes a nutty, savory crust. We serve this saucy pasta skillet with crisp broiled broccoli tossed in a sweet balsamic vinaigrette.
Ingredients
1.5 oz Parmesan
1 lb broccoli
18 oz cheese tortelloni
2 – 14.1 oz can cherry tomatoes
4 oz cream cheese
6 oz baby spinach
garlic
olive oil
sugar
kosher salt & pepper
balsamic vinegar (or red wine vinegar)
Instructions
1. Prep ingredients
Preheat broiler with a rack in the top position. Finely chop 4 teaspoons garlic. Finely grate Parmesan. Cut broccoli into 2-inch florets, if necessary.
2. Brown & cook tortelloni
Heat 4 tablespoons oil in a medium ovenproof skillet over medium-high. Add tortelloni in a nearly even layer and cook, without stirring, until golden brown on the bottom, 2–3 minutes. Carefully add 1 cup water to skillet and immediately cover. Cook until pasta is tender, about 5 minutes. Transfer to a plate; set aside until step 5. Wipe out skillet.
3. Make creamy tomato sauce
Heat 2 tablespoons oil and chopped garlic in same skillet over medium-high; cook, stirring, until fragrant, about 1 minute. Add tomatoes, 1 teaspoon sugar, and a pinch each of salt and pepper; bring to a boil. Simmer over medium heat, crushing tomatoes with a potato masher or fork, until thickened, about 5 minutes. Stir in all of the cream cheese until melted, 1–2 minutes.
4. Broil broccoli
Meanwhile, on a rimmed baking sheet, toss broccoli with 2 tablespoons vinegar and 4 teaspoons oil. Season with salt and pepper. Broil on top oven rack until crisp-tender and charred in spots, about 5 minutes (watch closely as broilers vary).
5. Add spinach & tortelloni
Add spinach, in batches, to tomato sauce, stirring after each addition, until just wilted, 1–2 minutes. Season to taste with salt and pepper. Fold tortelloni into sauce until coated and ingredients are combined.
6. Broil tortelloni & serve
Sprinkle Parmesan over tortelloni. Broil on top oven rack until cheese is melted and browned in spots, 1–2 minutes (watch closely as broilers vary). Serve tortelloni with balsamic broccoli alongside. Enjoy!