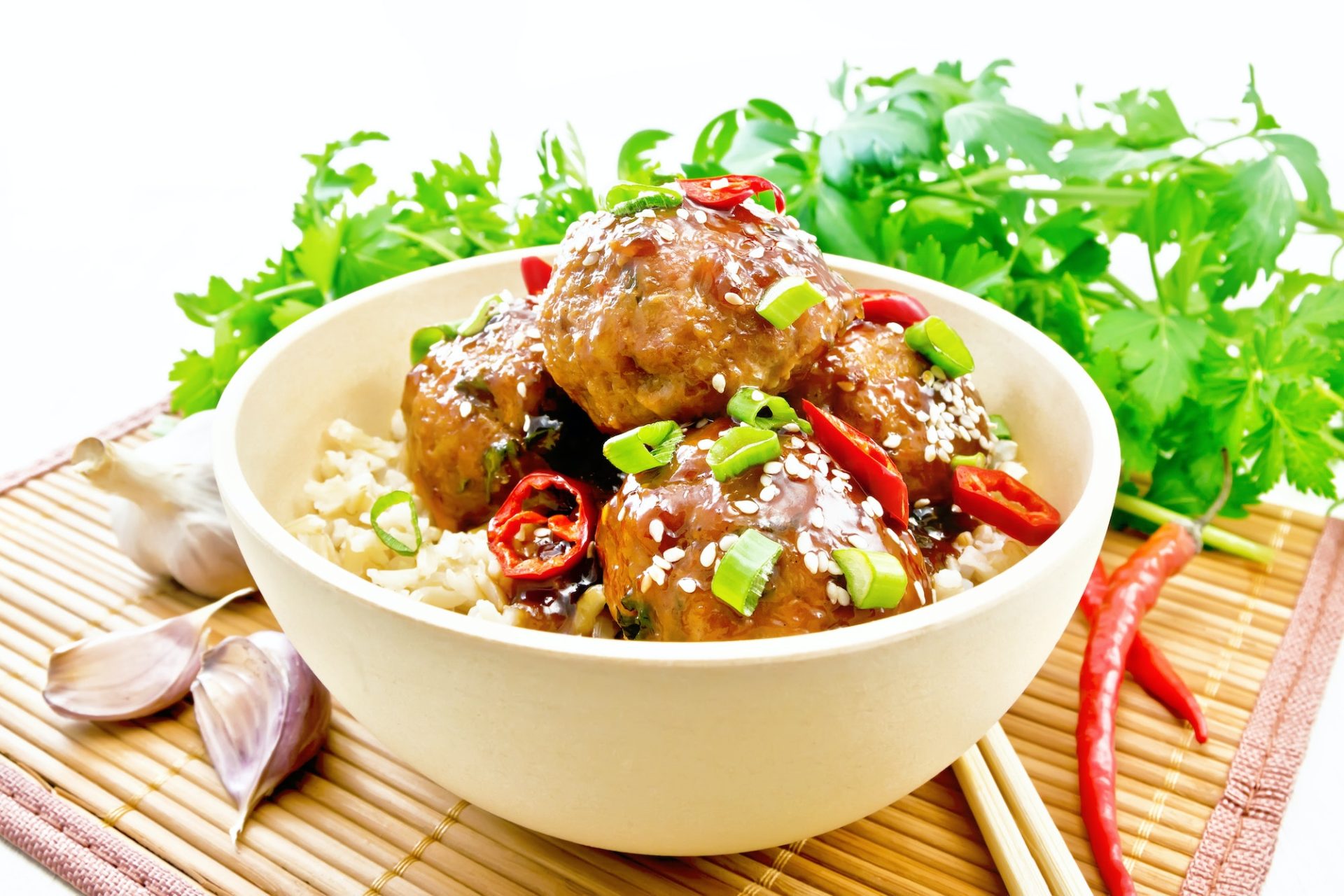 20 Dec

Yakiniku-Glazed Pork Meatballs
Yakiniku-Glazed Pork Meatballs with Roasted Veggies & Jasmine Rice
If you want to level up your meatball game, turn to yakiniku, a sweet and savory Japanese barbecue sauce. It coats the pork meatballs in a sticky glaze before we pair them with gently steamed broccoli and peppers over fragrant jasmine rice. Don't forget to sprinkle it all with sesame seeds and togarashi—a spice blend with subtle bright heat that lights up this meal.
Ingredients
10 oz jasmine rice
2 oz fresh ginger
garlic
2 bell peppers
1 lb broccoli
20 oz pkg ground pork
2 oz panko
7 oz yakiniku sauce
½ oz mixed sesame seeds
½ oz shichimi togarashi
kosher salt & ground pepper
1 egg
neutral oil
apple cider vinegar (or white wine vinegar)
Instructions
1. Cook rice
Preheat oven to 450℉ with a rack in the center. In a small saucepan, combine rice, 2½ cups water, and 1 teaspoon salt. Bring to a boil. Cover and cook over low until rice is tender and liquid is absorbed, about 17 minutes. Keep covered until ready to serve.
2. Make meatballs
Finely grate 2 teaspoons each of ginger and garlic. Halve pepper, remove stem and seeds, and cut into ½-inch strips. Cut broccoli into 1-inch florets, if necessary. In a medium bowl combine pork, ½ cup panko, half of the garlic and ginger, 2 eggs, 1 teaspoon of salt, and a few grinds of pepper. Mix until combined. Form into 10 meatballs, each about 2 tablespoons in size.
3. Cook veggies
On a rimmed baking sheet, toss broccoli and peppers with remaining garlic and ginger, 4 tablespoons oil; season with salt and pepper. Roast on center rack until edges of broccoli and peppers are browned and vegetables are tender, 15–20 minutes.
4. Cook meatballs
Heat 2 tablespoons oil in a medium nonstick skillet over medium-high. Add meatballs and cook, turning as edges brown, until seared and cooked through, 6–8 minutes.
5. Warm sauce
To skillet with meatballs, add all of the yakiniku sauce, 4 tablespoons water, and 1 teaspoon vinegar. Bring to a simmer, turning to coat meatballs in sauce. Season to taste with salt and pepper.
6. Finish & serve
Fluff rice with a fork and spoon onto plates. Place veggies and meatballs on top. Garnish with sesame seeds and desired amount of shichimi togarashi. Enjoy!